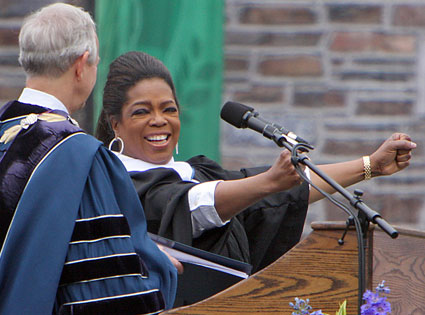 "Crazy Aunt" Oprah Addresses Grads, Receives Honorary Degree
Source: eonline.com Posted By: Tony Y..4633 days ago
It pays to have friends in high places.

That's what the 2009 graduating class of Duke University must have been thinking when Oprah Winfrey arrived at the ceremony to give a commencement address, as well as collect an honorary doctorate degree.

One possible reason for her appearance? Oprah's godson, and BFF Gayle King's son, William Bumpus, was among the 4,440 Duke graduates. Not that he is quick to brag about his Winfrey connection. Joked the Harpo big-wig, "Will never wants people to know....
(0 vote)