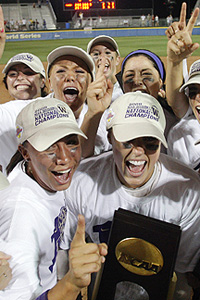 Washington wins Women's College World Series
Source: sports.espn.go. Posted By: Bill 4618 days ago
One bad inning wasn't going to stop the Washington Huskies from finishing what they started, just as one big challenge didn't deter their coach from returning to her alma mater to finish what she helped lay the foundation for more than a decade ago.

Where once there was nothing, now there is a championship.

Overcoming a nightmare start in the second game of the Women's College World Series championship against Florida -- a frame in which they fell behind before the game was five minutes old....
(0 vote)