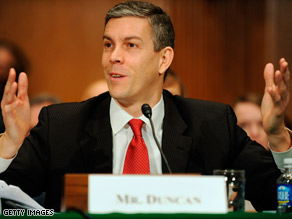 Commentary: Let's take 'all children forward'
Source: CNN Posted By: Aidan P...3571 days ago
In our first 100 days, the Obama administration has presented a comprehensive education agenda -- from the cradle through college -- that protects children and jobs in the short term and invests in the long term by advancing education reform.

We are using the power of transparency to expose the good, the bad and the ugly about American education as a first step toward raising standards, improving teacher quality and turning around low-performing schools.

To push our reform agenda, the president....
(0 vote)